Michael Borga's
Dog Training
Canine Behavior Specialist
In home consultations and training
Balanced training methods
---
Specializing in Behavior modification
(including but not limited to)
---
Performance Training
---
Additional Services
Pet Sitting in your home!
Instead of sending your pet to the kennel when you travel I will take care of your pets in your home. This will alleviate stress on your pet and eliminate any opportunity for your pet to contract contagious diseases while at the kennel.
---
---
About Me:
I am a Graduate of Starmark Academy school for professional dog trainers in Hutto Texas. Starmark is an intensive dog training program, including a balanced training approach useful for a variety of different training applications. Training at Starmark includes the teaching and rehabilitation of multiple shelter dogs. While at Starmark I worked with extremely aggressive shelter dogs. This experience has lead me to a special interest in behavior modification, and management of problematic canine behaviors in and outside of the home environment.
I have been training dogs since I was 10 years old. I trained my first dog to a canine good citizen, then to a therapy dog certification and then went on to train and compete with her in agility. I showed my first dog as a junior handler in the conformation ring. I have competed in AKC agility competitions at the local, national and international level, from novice, through Masters and Premier. I currently enjoy competing in agility and training other handlers to compete in the sport of agility from beginning through the Masters Level.
I chose to become a professional dog trainer when I saw how many people required help with their dog's training. I attended Starmark Academy in Texas to learn about dog behavior and motivation. This intensive educational experience gave me a well rounded understanding of dogs and dog training, and specifically in regards to canine behavior and how to solve behavior issues. I am always distressed when I hear stories about dogs having long term behavior issues and ending up in rescues because the owner was unable to manage their dog.
I enjoy training and helping people live happily with their dog.
.I find helping people with competition dogs achieve and succeed to the best of their abilities very rewarding!
---

Michael Borga's
Dog Training
---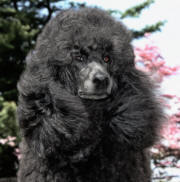 Waypoint Standard Poodles
Bred for Performance Excellence!
---
Entire contents copyright © 2017, Michael J. Borga Jr.
---