Michael Borga's
Dog Training
Canine Behavior Specialist
In home consultations and training
Balanced training methods
---
Descriptions of Behavior Issues
---
Housebreaking:
---
Excessive barking:
A constantly and excessively barking pet or a pet that barks at inappropriate times eventually results in an unhappy home or neighborhood. This is a common problem that I can stop.
---
Food or object guarding:
Can you take the food out of your pet's bowl while they are eating? Can you take the ball away from your pet without any growling or displays of aggression?
These are 2 examples of having a well trained and well behaved pet.
---
Aggression:
Does you dog display aggressive behavior towards other dogs or house guests?
Besides the liability issues of an aggressive dog we all want our pets to be friendly, sociable companions that we can comfortably take into social and family situations without worry.
I can train your dog to behave in the manner that you wish.
---
Day to day home manners:
Is your dog in need of basic politeness?
---
Loose leash walking:
I can train your dog to walk with you in control and your dog under control.
Loose Leash Walking will become an enjoyable experience for both you and your dog.
---

Michael Borga's
Dog Training
---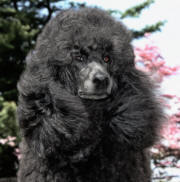 Waypoint Standard Poodles
Bred for Performance Excellence!
---
Entire contents copyright © 2017, Michael J. Borga Jr.
---