The Story of Waypoint Standard Poodles
Our Story:
In 2005 I decided to get a dog.  In my household, many of us have animal allergies.  I researched the 'hypoallergenic' breeds, including the poodle mixes.  I wanted a medium-large sized dog, which ruled out a yorkie.  The poodle crosses, I found do not guarantee you a dog that is hypoallergenic, and some, in fact, shed quite a bit.  The Portuguese water dog seemed like a viable option, until I researched their strong and independent personality, and realized it may not be a good match for my already chaotic household.   I wondered about why many other dog breeds are crossed with poodles, and what is so special about them?
I considered a standard poodle. I researched the breed and found that this was what I was looking for, a breed that has hair not fur and doesn't shed.. The breed is very intelligent and easy to train.   Females run 40 to 50 lbs normally, a nice size.  Most importantly the breed loves people and wants to be involved in people's lives! I looked around quite a bit and found the perfect dog for our household at Kali standard poodles, MACH4 Kasha.  She opened my eyes as to how wonderful owning a poodle can be.
Like any other new dog owner I had some training issues, mainly loose leash walking.  I had a private lesson with Anne Scripko at Clever K-9, in Lakewood, NJ.  Anne was very patient with me and got me on track, and able to enjoy walking my dog.   While there training, I saw the agility equipment and was intrigued.  One agility lesson later and I was hooked!  Kasha and I started competing in agility, and we both love it.
My 10 year old son, Michael went to all of the trials with me, and decided that he too would like to do agility.  Off we went again in search of a dog, this time with an eye to an athletic dog.  We decided on a blue standard poodle puppy, Mitsy.
My son was the one who did the Agility training with Mitsy, and attended the classes.  I decided early on that show handling classes would be a good place to socialize her.  After a few classes the instructor began to comment on how well she moved and showed, and encouraged us to go off and show her.  Being new to the sport, of conformation I couldn't believe how that dog took to the show ring!  She loved the ring, and all the attention.  My son enjoyed Junior Handling.  He and Mitsy continued in agility training and then competing, at the same time showing in the breed ring, and Junior Handlers, and make a wonderful team.
We breed infrequently with the intent of producing an excellent performance poodle and family pet.  We are located at the New Jersey shore.  Please visit the rest of our site for more photos and information.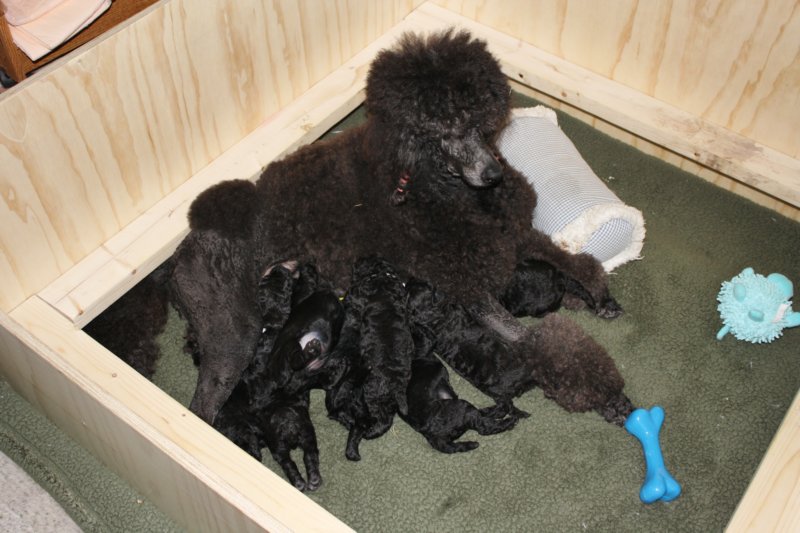 Extraordinary Pets and Performance Dogs
The dog that started it all!